(BFA) Bachelor of Fine Art in Textile Design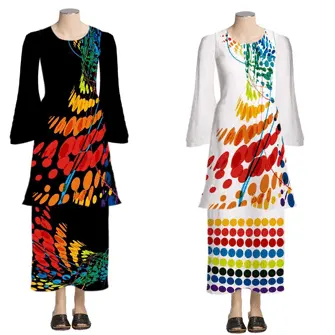 BFA Bachelor of Fine Art in Textile Design Courses
This programme prepares the students to come across the intellectual, and practical demands of the printing and textile industry. BFA Bachelor of Fine Art in Textile design courses basically comprises of the method to generate designs for knitted, printed and surface ornamented fabrics. Moreover, students are involved in the production of these designs which are often utilized in fashion and interior décor items. BFA Textile honours degree provides the ideas encouraged by a huge range of visual studies and the surrounding environment. Likewise, a reputed university in Lahore, our institute's Hons programme produces not only brilliant designers but experienced professionals. Thus, our college is the best textile school which undertakes the usage of sustainable materials to produce an intelligent design. Taking admission in major textiles will assist you to experience handlooms, dyeing and printing facilities available.
BFA Bachelor of Fine Art in Textile Design Courses | Degree at IADM is the right choice:
At STEP School of textile and design, students acquire an opportunity to learn printing, knitting, weaving and finishing skills, due to this, they are able to do creative work. Besides, students directly work in on-campus labs equipped with industrial tools and machinery, so that they can doing their practical work. Our BFA Textile and design courses expose the students to the specified fields of merchandising, marketing, costing and pricing. Hence, a BFA textile degree programme helps to distinguish the appropriate fibre usage, fabric quality, ornaments, and surface finishing to create a final product. Almost, our BFA Textile Design degree offers specialization in apparel or home design. After completion of these Bachelor of Fine Art in textile Design degree courses, learners will be able to learn not only about textiles. But business and management as well and will take them to the next level.
What makes fashion and BFA Textile degree different from others?
BFA Bachelor of Fine Art in Textile designing programme with integrating contemporary, classical and traditional sensibilities sustains an interface amongst making & material. Moreover, BFA textile design trains the students in weaving, pattern making, and embellishments with visual merchandising. Likewise, BFA Bachelor of Fine Art in textile courses are helpful in training students to experience industry-related challenges and economical practices. Therefore, the environmental and economically viable design problems are a significant concern of the BFA textile designing institute in Lahore. As well, our department sustains colour patterns, fabric construction and surface treatments as basics for fashion designing and textile design students.
Aims of the BFA Textile Design Courses:
This dynamic BFA textile design college intents to improve the artistic skills of the individuals as per global industrial demands.
In addition, our BFA textile Design courses encourage the students to discover several dimensions of their application for targeted groups.
Furthermore, students are encouraged to understand the technical and conceptual features of (BFA) Bachelor of Fine Art in Textile Design.
Additionally, our fashion and textile design provide numerous practice opportunities to the aspirants of fashion design and professional arts.
How Bachelor of Textile Courses Prepares Students?
Our institute of textile design prepares the learners for the international and local apparel & fashion industry. Additionally, our fashion textile design courses assist in learning the design integration to the requirement of the market. Hence, this programme covers the development of a whole idea, its design and the development of the product. Likewise, other textile designing universities in Lahore, this prepares the students to develop market feasible collections.
Career Options
BFA Textile design major graduates can be found in every part and at every level of the creative and industrial sectors. About, 89% of our recent BFA Bachelor of Fine Art in Textile Design graduates are working; over a quarter are freelance or have their own business. Hence, a bachelor's degree in textile design can lead you to several career options.
Fashion designers
Develop new styles and products for clothing apparel and accessories by creating original designs or by adapting fashions to suit local conditions, trends, and buyers. They are the ones who approve final samples before they go into production as learned in fashion textile courses. Hence, the designer begins the designing process only after thorough market research, i.e., understanding the needs of the client/market in terms of changing trends, budget, etc.
Fashion coordinators
They arrange and supervise the marketing of fashion clothing for manufacturing houses, textile firms, and retail stores. Correspondingly, it is a highly competitive job involving a variety of functions. Further, they advise on the latest fashion trends, organize fashion shows, and assist in advertising i.e. promoting sales and liaison with fabric dealers to ensure that the fabric, buttons, and colours are of the correct shade, quality, and design. Coordinates may be required to travel widely to get an idea of the fashion trends.
Illustrator
Draw freehand sketches of the designer's ideas. They not only need outstanding sketching skills but at the same time require excellent communication skills. Thus, Illustrator at times has to discuss with customers when a new collection is introduced and this requires the ability to interact.
Fashion Consultant
Must be aware of the trends and transitions in the fashion market along with knowledge about fashion designing. Even more, they are expected to offer ideas regularly on how to further develop a product to be readily absorbed in a market. Accordingly, He/she should be a sharp observer sensitive to changing trends.
Cutting Assistants
Have to cut samples according to the specifications of the designer. Certainly, a cutting assistant cuts samples makes and alters patterns to see that the design visualized can be converted to a real dress.
Sketching Assistants
Make the technical sketches of the garments and makes drawings for the presentation. It is from this specification sketches one decides how a garment has to be fabricated. Moreover, the sketching assistant sometimes has to select the fabric also.
Textile Designer
Individual who copes with the aesthetic characteristics of the production of textile-like pattern, colour& texture. However, several designers are given the authority to choose the fabric as well. Thus, as a designer, you need to deliberate about the type of fabric, dyes types and yarn sizes to be used. Further, you need to create the design on the basis of practical and aesthetic requirements.
Trend and forecasting analyst
The responsibility of a trend forecaster is the identification of fresh trends so that keep in touch with the latest trends and making a prediction about those trends shaping the industry. As a forecasting analyst, you will be in authority to analyze the data of consumers regarding recommendations centred on their perceptions.
Jobs directly associated with your degree comprise:
Visual merchandiser
Retail buyer
Textile designer
Retail merchandiser
Retail manager
Jobs where your degree would be beneficial:
Event Organizer
Clothing/ textile technologist
Magazine Journalist
Jewellery designer
Newspaper Journalist
Public relations officer
WHO SHOULD APPLY?
Textile and Fashion Design College seeks the aspirants having artistic ability & creative flair. Thus, everyone has an upright eye for patterns, fabrics, texture, and colour are encouraged to apply. Therefore, if you have a keen interest in fashion and textile management & have an understanding of materials and trends. Then, this school of textiles and design is the right platform for you.
WHY CHOOSE IT?
Our degree delivers essential skills to students to take their designs in the form of product to the relevant market due to this they get a lot of experience. Moreover, our textile designing courses in Lahore prepare learners with profound knowledge of surface design and mix media textiles. As an exceptional BFA textile designing in Lahore, well evaluated and standard thesis display provide a chance for students to get employed. Above all, textile admission would provoke you to create appealing designs while using your capabilities.
PROGRAMME DURATION
Total duration: 4 years
Total semesters: 8 (6 months per semester)
CREDIT HOUR DETAIL
Total credits: 240
Mandatory: 80 credits
Optional: 160 credits
TOP-UP BACHELORS
Total credits: 120 credits
UNITS FOR (BFA) BACHELOR of Fine Art in Textile Design
Basic Design
Colour Theory
CAD
Drawing Tec
Design Exploration in Fashion
Pattern Drafting & Sewing
Visual Communication
Fashion Drawing & Design
Fundamentals of Textiles
History of costumes
Design Application in Fashion
Pattern Construction & Production Techniques
Research & Development in Fashion
Project Design, Implementation & Evaluation
Techniques & Processes in Textiles
Draping
Portfolio development
Fashion collection realization
Professional Practice
Fashion Photography
Flat specs for the Fashion Industry
Textile collection realization
Garment Manufacturer
Jewellery, accessories & body adornment
Men's wear
Dissertation
ONLINE ADMISSION METHOD:
You can also apply online by filling the form given on our website so that we can contact you soon.