Fashion Design & Management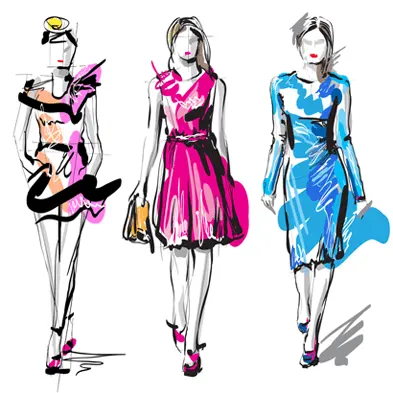 Fashion Design and management is a skill based qualification which also includes a broad range of relevant subjects .It is the art of application of design and aesthetics or natural beauty to clothing and accessories. Fashion design is influenced by cultural and social latitudes, and has varied over time and place. After completion of this programmer learner will also be able to learn not only about fashion but business and management as well which will take them to next level..
WHO SHOULD APPLY?
It is a qualification for those who have either already started or who are planning to embrace a career in fashion or creative market.
WHY CHOOSE IT?
It is a UK based qualification which leads to further international progression
It is designed to provide learners with a variety of skills needed to meet local and international industry demands.
It gives the students opportunities to execute their collections from idea to catwalk.
It enables to explore fashion trends and develop an independent mode of working.
ADMISSION CRITERIA
Minimum eligibility criteria for admission:
The selection of the students is based on the following factors:
1. Academic background:
Candidates with ICS, ICOM, FA, FSC, A LEVELS in any subject can apply for this course.
2. Assessment test
An assessment test will be provided to candidates which are designed to analyses their aesthetical abilities in art and design field. The percentage in this test will allow the department to focus on the areas in which candidates lack, so further advising can be given by assessors.
3. Submission of a completed application form along with academic documents:
An application form has to be filled by the candidate given by the admission office. The form will have all the required academic documents which include two passport size pictures previous academic certificates, and CNIC copy of candidate in case the candidate does not possess one, guardian's id card copy can also be attached.
PROGRAMME DETAILS
Total duration: 4 years
Total semesters: 8 (6 months per semester)
CREDIT HOUR DETAIL
Total credits: 240
Mandatory: 80 credits
Optional: 160 credits
TOP-UP BACHELORS
Total credits: 120 credits
UNITS FOR BACHELORS IN FASHION DESIGN & MANAGEMENT
Basic Design
Color Theory
CAD
Drawing Tec
Design Exploration in Fashion
Pattern Drafting& Sewing
Visual Communication
Fashion Drawing& Design
Fundamentals of Textiles
History of costumes
Design Application in Fashion
Pattern Construction & Production Techniques
Research& Development in Fashion
Project Design, Implementation & Evaluation
Techniques& Processes in Textiles
Draping
Portfolio development
Fashion collection realization
Professional Practice
Fashion Photography
Flat specs for Fashion Industry
Textile collection realization
Garment Manufacture
Jewelry, accessories &body adornment
Men's wear
Dissertation
Careers
Our graduates can be found in every part and at every level of the creative and industrial sectors, from heads of global businesses to self-employed practitioners.89% of our recent graduates are working; over a quarter are freelance or have their own business.
We're as career-focused as you are.
Fashion designers
Develop new styles and products for clothing apparel and accessories by creating original designs or by adapting fashions to suit local conditions, trends and buyers. They are the ones who approve final samples before they go into production. The designer begins the designing process only after thorough market research, i.e., understanding the needs of the client/market in terms of changing trends, budget etc. Accessory Designers specialize in designing shoes, bags, scarves, jewelry, ties, etc. which complete the look of the garment.
Personal Attributes: Fashion designers need to be artistic, creative and must possess ability to translate ideas in sketches, must have keen sense of color i.e. combination of shades and tones, visual imagination & knowledge of market trends.
Fashion coordinators
They arrange and supervise the marketing of fashion clothing for manufacturing houses, textile firms and retail stores. It is a highly competitive job involving a variety of functions. They advise on latest fashion trends, organize fashion shows, and assist in advertising i.e. promoting sales and liaison with fabric dealers to ensure that the fabric, buttons and colors are of the correct shade, quality and design. Coordinates may be required to travel widely to get an idea of the fashion trends.
Illustrator
Draw free hand sketches of designer's ideas. They not only need outstanding sketching skills but at the same time requires excellent communication skills. Illustrator at times has to discuss with customers when new collection is introduced and this requires ability to interact.
Fashion Consultant
Must be aware of the trends and transitions in the fashion market along with knowledge about fashion designing. They are expected to offer ideas regularly on how to further develop a product to be readily absorbed in a market. He/she should be a sharp observer sensitive to changing trends.
Cutting Assistants
Have to cut samples according to specifications of the designer. A cutting assistant cuts samples, makes and alters patterns to see that the design visualized can be converted to a real dress.
Sketching Assistants
Make the technical sketches of the garments and makes drawings for presentation. It is from this specification sketches one decide how a garment has to be fabricated. The sketching assistant sometimes have to the select the fabric also.
Fashion Stylist
Has to coordinate the entire wardrobe for a fashion show or programme to promote the sales of the products. It involves coordinating the dress, accessories, make up, hairstyle, even the color of the nail polish of the model according to the theme and the overall look of the show. Sometimes a stylist is even involved in fabric selection. He/ she has to be well versed in the trends and happenings in the industry and also have a keen sense of current fashion trends.
Jobs directly related to your degree include:
Fashion designer
Retail buyer
Retail manager
Retail merchandiser
Textile designer
Visual merchandiser
Jobs where your degree would be useful:
Clothing/textile technologist
Event organizer
jewelry designer
Magazine journalist
Newspaper journalist
Public relations officer