The Postgraduate Extended Diploma of Strategic Management and Leadership is especially for those working in business administration. Thus, having a complete structure, Level 7 develops competence and key skills needed to become a strategic manager. Likewise, you will improve the personal qualities, techniques, and attitudes essential for successful performance in the management sector.  Moreover, senior managers or directors can also learn the implementation of organizational strategy into effective performance. Along with other subjects, its course consists of the strategic marketing process and managing financial principles as well. The assignment completion will lead you to examine the problems relevant to your work.  Further, it will encourage you to apply theories, models, and tools to actual workplace stations.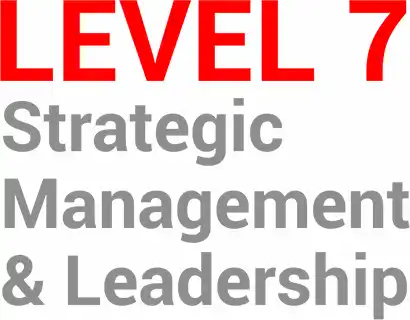 The objective of strategic management:
Its objective is to cultivate the skills of leadership and strategic financial management in authoritative managers.  And in the ones having the qualities to interpret the organizational strategy into a well-organized presentation. Furthermore, this qualification encourages the students to enhance and magnify the higher level of strategic understanding at the workplace. The course of Level 7 is suitable for mature students having a background in industry or academic study.
Key features of the strategic management process:
Course content comprises of core units which are mutual to several sectors. Thus, providing opportunities for students to change the decision regarding the specialized area.
This qualification allows the professional development of employed individuals.
A flexible assessment method permits the tutors to choose a suitable procedure for students.
How will you be assessed?
Practical assignments are a source of assessment for the strategic management process. For this, the institute further evaluates all the units of this qualification. The course is based and referred to as the specified learning conclusions' attainment. Hence, this is obligatory for the students to provide evidence to exhibit the fulfilment of learning outcomes provided by assessment criteria. This is necessary to accomplish success in the unit of Level 7 strategic management. Moreover, after achieving valuation criteria, learners are finalized by the judgments of an assessor. Further, the assessor has to give an audit trace indicating the general accomplishment of the learners regarding Level 7.
Simply, assignments will vary and include a mix of formal reports, presentations, and practical tasks. Hence, learners will complete a coursework task for each unit, which includes:
written report
a display
a PowerPoint presentation
A web-based task
Progression of strategic financial management:
Its completion might progress the students to a larger qualification at a similar level i.e. from diploma to extended diploma. You might enroll in the program of MBA or get employment.
Course Highlights
Why choose it?
Level 7 has a clear job-relevant emphasis on the development of applied skills together with a theoretical basis. Hence, its successful completion train the students with vital skills and abilities to be an efficient strategic manager. Likewise, it progresses the learners towards employment or higher education such as MBA (advanced stand-up).
Who should apply?
Level 7 strategic management is ideal for senior managers who are operating at the strategic level in an organization. Moreover, this also for the ones who are about to take their initial step towards senior management. Therefore, this qualification revolves around the development of strategic leadership & management abilities to prosper at a higher level.
MODULES/UNITS:
Students will cover a range of topics that include:
3 Mandatory Core Modules:
Developing Strategic Management and Leadership Skills
Professional Development for Strategic Managers
Strategic Change Management
6-10 Specialist Modules (From the List Below):
Strategic Human Resource Management
Corporate Communication Strategies
Developing Corporate Culture
Managing Financial Principles and Techniques
Strategic Marketing Management
Strategic Planning
Creative and Innovative Management
Research Methods for Strategic Managers
Strategic Supply Chain Management and Logistics
ENTRY REQUIREMENTS
ACADEMIC QUALIFICATIONS
2nd Division in Graduation B.A\B.Sc.\B.Com 14 Years of Education or 16 Years of Education.
Any Higher National Diploma(HND), preferably in Business
Any other equivalent qualification.
LANGUAGE PROFICIENCY
You must have competence in the English language to take admission in strategic financial management. Therefore, the most commonly accepted evidence of English language ability is IELTS 5.0. This must be with a minimum of 4.5 in all four components. In case, if you don't meet our minimum English language requirements. We also offer an intensive Pre-sessional English course for students. Hence, we are an accredited Pearson English Centre to take this strategic management process.
INTERVIEWS, ENTRANCE TESTS, PORTFOLIOS AND AUDITIONS
You need to go through the initial assessment test to enter this course. Judgments of your current performance are carried out through interviews.